Home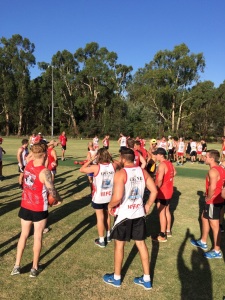 Welcome to the new Warrandyte Football Club website
Membership
WFC has released its membership packages for 2015.
For just $75 you can get entry to all nine home games plus recieve a WFC membership Cap.
If you are an "out of towner" but will still like to support the Club, a membership is just $30 which gets you a WFC cap.
Consession/Pensioner membership prices are $30.
You can download a membership form at the bottom of this page or contact Stephen Bell on pres@warrandytefc.com for a membership form.
Warrandyte F C App
Keep up to date with all the Warrandyte FC news by downloading the WFC App on your smart phone
It's 100% free!
Available on the web: http://warrandytefootballclub.teamapp.com or download FREE for iPhone, iPad or Android here: http://teamapp.com/app
Warrandyte Fun Run - Sunday March 1st
The WFC will once again compete in the annual Warrandyte Fun Run on Sunday March 1st.
Event – This event provides a number of ways to participate. You may choose to run (or walk!) the 2.25k or 4k course, take on the 8k or 12k run course, or get the kids involved in the youngsters event located on the Oval. There is something for everyone.

Location (Start/Finish) – The Warrandyte sports facility, Taroona Ave, Warrandyte, 3113

Run Entry –

On the day entry form

Course – Scenic road course taking in views of the Yarra River & Warrandyte State Park. (Full road closures in place)

Registration – Entry kits will be available on Saturday 28th Feb from the marquee outside Quintons SUPA IGA supermarket, located opposite Warrandyte Reserve, and at the Warrandyte Reserve sports facility on Taroona Ave Warrandyte, from 7:30am on run day.

Start Time – 8:00am
Pre- Season Training
Training is at the Warrandyte Oval on Monday, Wednesday and Friday. New Players are most welcome.
Practice Matches
WFC will play 3 pracetice matches in the lead up to the 2015 season. The highlight will be on the warrandyte Festival weekend when we take on Templstowe at Warrandyte Reserve.
Saturday March 14th - Garfield (Away)
Sunday March 22nd - Templestowe (Home)
Saturday March 28th - Panton Hill (Away)