Home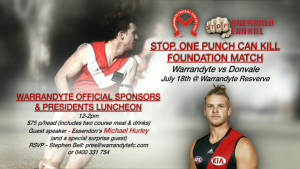 ROUND 12 - KILSYTH AWAY
On Saturday 4th July, we take on Kilsyth at their ground. The day kicks off with the Under 19's at 9.40am.
In the seniors Kilsyth have won the last 6 games and sit 4th on the ladder with 7 wins and 4 losses.
In the reserves Kilsyth sit 3rd and in the Under 19's they sit 5th.
Makesfor a great day of local footy!
WFC PRESIDENTS AND SPONSORS FUNCTION
The annual WFC Official Function will take place on Saturday 18th July at the Clubrooms at the Warrandyte V Donvale match.
Tickets are just $75 whick includes a 2 course meal and drinks from 12pm - 2pm.
Guest speaker - Essendon Super Star Michael Hurley. For tickets contact
Stephen Bell on pres@warrandytefc.com or 0400331754.
APP
Keep up to date with all the Warrandyte FC news by downloading the WFC App on your smart phone
It's 100% free!
Available on the web: http://warrandytefootballclub.teamapp.com or download FREE for iPhone, iPad or Android here: http://teamapp.com/app