Home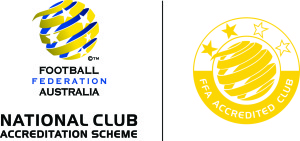 Breaking News!
Next Round of FFA Cup (NPL teams) to be played at Lisle Carr on Wednesday 15th April.
6pm. South Cardiff Vs Edgeworth
8pm. CCB Vs Adamstown
Magic got the bye.
---
Charlestown City Blues has been awarded Level 2 Accreditation.
Only 10 clubs have achieved this status thus far in Australia!
---
Home Season Passes will soon be available.
NNSW sets the entry price for admission to NPL Senior Matches and have increased prices this year.
Adult admission is $10 (over 15) and $5 (pensioner) + $2 (car)
You can buy a pass to all 10 home games to CCB for $70 ($35 concession). Season pass also includes annual club membership (normally $20). Passes are transferable.
Please advise your manager if you are interested, passes should be available in about six weeks.