About Us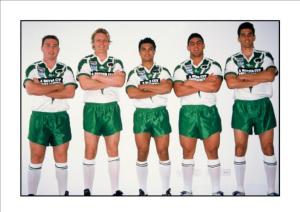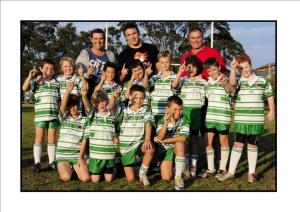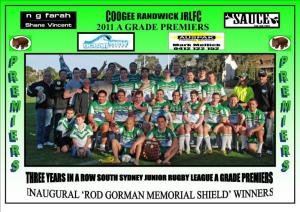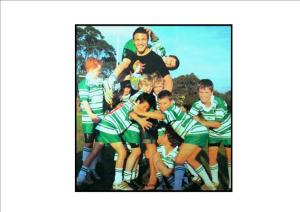 PLAYERS WANTED : we always welcome players from under 6 (4 and 5's) to open age.
CONGRATULATIONS ON THE FOLLOWING 2013 PREMIERS WINNING SIDES , MINI LEAGUE COMPETITIONS : U6 Div1, U7 Div3, U8 Div1, MOD LEAGUE COMPETITIONS : U10D1, U11D1 AND U12D1 . The U19 and A Grade are contesting the Semi's. Our 2nd most successful season after the record breaking 2011 season.

(from left to right - Luke Branighan, Ryan Cross, Craig Wing, Reni Maitua and Todd Byrne).



2011 - Inaugural Rod Gorman Shield A Grade Premiers, A Reserves Premiers, Inter District U16's Premiers, U7Division 2 Premiers, U8, U9, U10, U11, U12, ALL Division 1 Premiers...AND the most winningest A GRADE CLUB AND A RESERVE GRADE CLUB in the Souths Juniors history. 2011 was the most successful ever for the club, 9 Grand Finals and 9 wins. The A Grade won 3 competitions in a row for the 2nd time in our short history and the Juniors long history.




From an after game comment by the `sideline eye' Dick Potter "you played like a bunch of Wombats" at a Coogee Penguins game some 43 years ago, the Coogee Randwick Wombats were born.

43 years produced a long and proud history steeped in success, controversy, `colorful racing identities', and stories legends are made of with a unique bond between all those associated with the club.


In the 70's & 80's the club enjoying the fruits of non conformity was basically a Senior side club leading a nomadic existence around the district enjoying many premiership wins. Upon hanging up the boots and turning their minds to other things, up sprung a whole new generation of little wommies.


The rebirth of the junior sides in the 90's have produced some exciting players just now hitting the graded ranks and we anticipate many more coming through in the future. Present ex players include 15 year player Jason Clark ( Rabbitohs),John Sutton (Rabbitohs), Beau Falloon (Titans),Shane McPherson ( England), Reni Maitua (Bulldogs) Anthony Cherrington (Roosters) Blake Aysford (West tigers) Adam Frier(Wallabies), Stephen Hoiles(Wallabies) Alfred Mafi (Waratahs) Ryan Cross (Waratahs/Roosters) Peter Betham (Walabies) and favourite son 10 year Wombat player Craig Wing(Rabbitohs). Our club fields 22 sides, boasting one of the largest supporter base in the district and in enjoying wide community sponsorship support, we provide the best for our children with playing and training facilities based at Marcellin College Fields at Heffron.

Training / SIGN ON commences 1st Thursday in March at Marcellin College Fields Heffron Park . We welcome any player,coach or officials to become part of the success story of the 2000's.

You'll look right in Green & White

Together with our committed volunteer workers, this was the catalyst of our success in the late eighties & early nineties that culminated in the growth of our club to be one of the largest in the Junior League. The club's premiership successes include :


A Grade 1956, 1970,1973,1978,1982,1983,1992,1993,1994,1996, 2009,2010,2011

Most A Grade Premierships in the Souths Juniors.

Most A Reserve Grade Premierships in the Souths Juniors.

World Club 7's champions 1993.

Two times 'Threepeat' A grade Premierships.

Guildford Cup Premiers 1992,1994.

A Reserves 2001 , 2008, 2009, 2011

Interdistrict U21'S, 2007

B Grade 1974, 1975, (U-21's) 1995, 2006, 2007

C Grade 1999 (U-19's), 2005

U-18'S 2001

U-17's 2006, Inter District 2012
U-16's Inter District 2011

U-15's 2004

U-14'S 2001

U-13'S 2000
U-12's 2011, 2013

U-11's D1 1991, 1993, 2011, 2012 ,2013 D2 2007,

U-10'S D1 1995 , 2011, 2012, 2013

U-9's 1990, 1993, 2004. 2010, 2011, D3 2006, 2010

U-8's D1 1989, 1995, 2009, 2011, 2013 D3 2006.

U-7's 1988, D1 2007, D1 2008, 2009 , D2 2011 , D3 2005, 2006, 2013

U-6's , D1 2008, D1 2013 D4 2009 D6 2004

Wayne Pierce Shield Winners 1990.

U7 Endeavour Cup 2008.

South Sydney Junior Club Champions 1995. 2012