Welcome to the home of the Magpies
MacDonald International - 2009 Major Sponsor
www.miengineers.com
MacDonald International
A leading multi-disciplined Consulting Engineering company, providing the highest quality professional services, delivered on time and structured to precisely meet the requirements of each client.
Koori Kids - First Grade Sponsor
Koori Kids is the 2009 Jumper sponsor for our first grade squad
Koori Kids provides events focused on assisting 'young people' with a range of programs and facilitated events in communities.
Sir Walter - Club Sponsor - First Grade Training & Club Shirts
www.sirwalter.com.au
Sir Walter is our 2009 Club Sponsor - Training & Club Shirts and First Grade Sponsor
Sir Walter Premium Lawn Turf is a superior quality soft buffalo grass giving unmatched performance for Australian conditions. Here you can find out all there is to know about this ideal, low maintenance lawn called 'Sir Walter'.
Caltex - Shoalhaven Heads (Reserve Grade Sponsor)
caltex.com.au
Caltex Shoalhaven Heads is the 2009 Jumper sponsor for our reserve grade squad
McDonalds - Bomaderry
www.mcdonalds.com.au
McDonalds Bomaderry is the 2009 Jumper sponsor for our Under 18s squad
Blackheart - 2009 Shorts Sponsor (all grades)
www.blackheart.com.au
Blackheart is the 2009 Shorts Sponsor for all three grades.
BlackHeart is an Australian Sports Company. BlackHeart only sells industry leading brands, which have been tested and proven by the BlackHeart Team.
Next Match - 28th March at Berry Showground
The Mighty Magpies take on local rivals Gerringong Lions at the Berry showground

Kick off
- Under 18s - 11:45am
- Reserve Grade - 1:00pm
- First Grade - 2:45pm
Be sure to get there and support the boys
Sports Development Day - Upcoming Magpies ready to swoop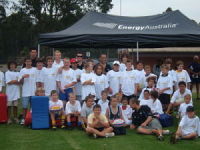 A Sports development Clinic was recently offered to established junior Rugby league players, and any kids who want to test their skills in the game of rugby league between ages 6-17. The coaching clinics consisted of an intensive, daylong clinic giving kids the opportunity to become better athletes and better rugby league players.
The coaching clinics gave each of its participants renewed energy and enthusiasm for the game and improved self-confidence—all keys to growth as a player and healthy kid.
The clinics were conducted by renowned Rugby League players; including; Jason Stevens, Greg Bird, Nick Youngquest, Paul Aiton, Peter Wallace and Mick Gordon and other high profile players who share a passion for the sport of rugby league, and have made a career of sharing their knowledge and skills to hundreds of kids. The Rugby League clinics harnessed potential and totally immerse players in the sport, giving them the kind of focused, intensive training essential for improvement – no matter what their ability level. Every facet of the game was covered and their performance as an overall player will improve, along with their self-confidence!
Clinic Highlights
· Day long clinics
· Professional instruction from high profile selected NRL players
· Discussion topics: preparing for rugby league, sports nutrition, injury prevention and personal goal setting
· Each Participant got their very own specially designed water bottle plus a Koori Kids/ Energy Australia Rugby League Clinic T-shirt, lunch, prizes and personal evaluation and autographs from the celebrity instructors.
Some of the participants displayed a vast amount of skill and will undoubtebly produce some future magpies!