The Dragon's Den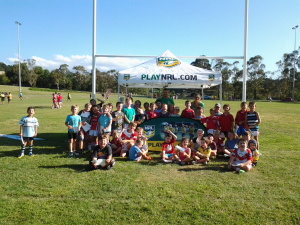 WELCOME TO THE 2016 FOOTY SEASON!
Our training season has kicked off to a great start. Last Thursday the MVJD played host to a "Come and Try Clinic'. Jake and his team for the NRL Development, came down and ran the clinic that was for children aged 4 – 16 years. This gave children from all teams within the Southern Highlands a chance to see what Junior Rugby League is all about. The children were put through some footy drills and gave them a taste of what is involved in Junior Rugby League.
The children had a great time mixing with new people, making new friends and getting some exercise fitness in as well. The NRL provided a free sausage sizzle that was well received by all the hungry players.
If your child missed out on the clinic, or they would like to go to another one, there is another clinic starting this Friday night at Losbey Park in Bowral. This Clinic is again being run by the NRL. To register for get further information, please go to http://www.playnrl.com/programs/ enter your post code and follow the
WE NEED YOUR HELP!
We are looking for volunteers to help our club and our season run as smoothly as possible. One of our goals this year is to upgrade and fix our BBQ and canteen facilities. The only way we can do this is with your help. We will be holding a Working Bee (hopefully before the season kicks off). If you have labor skills or can lend a hand in some way, please contact Dianna on 0411269093. We will put details on our website and Facebook page letting people when we are having our working bee and what we will be doing. This is a great way to support your child's club and get involved in a great team.
We also need volunteers throughout the season. Click on the "Get Involved tab" and see how you can lend a hand.
Looking forward to a great 2016 Season!