Home Page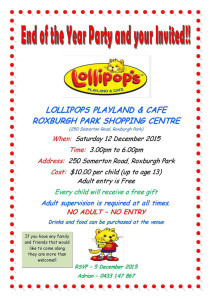 END OF YEAR CELEBRATION.
Roxburgh Magpies Basketball Club is having an end of year celebration at Lollipops Playland and Cafe on Saturday 12th December between 3pm and 6pm.
Tickets must be pre bought from the club for $10 each, this includes a free gift for each child. Purchase as many tickets as you need, Friends and Family are welcome.
Children MUST be accompanied by a Parent/Guardian, unsupervised children will NOT be allowed entry. Adult entry will be free on the day, this is usually priced at $3.50.
Lollipops Playland and Cafe is located at the Roxburgh Park Shopping Centre next to the Reject Shop. The centre accomadates for children aged to 14. older children are welcome but activities may not suit.
Thank you to Lollipops Playland and Cafe Roxburgh Park for supporting our club.
For more info please call Adrian 0400 533 044.