Home N&HAFC QFA Nth
Senior Footy Round 12 vs Noosa @ Noosa AFC
AFC
Saturday 4th July
Seniors Ball up 2:00pm.
Reserves Ball up 11:45am.
It's that time of the year again!
N&HAFC Annual Blue's Masquerade Ball.
$60, see poster below for details.
Tickets can be purchased from the club starting Thursday the 25th of June. Or Alternatively tickets can be purchased by bank transfer, see details below:Name: Nambour & Hinterland AFCBSB: 638 070
A/c No: 1045 6589
Reference: First name Initial and Full last name eg. J Smith
Once paid for please email nfcball@gmail.com once we receive payment a ticket will be emailed back to you.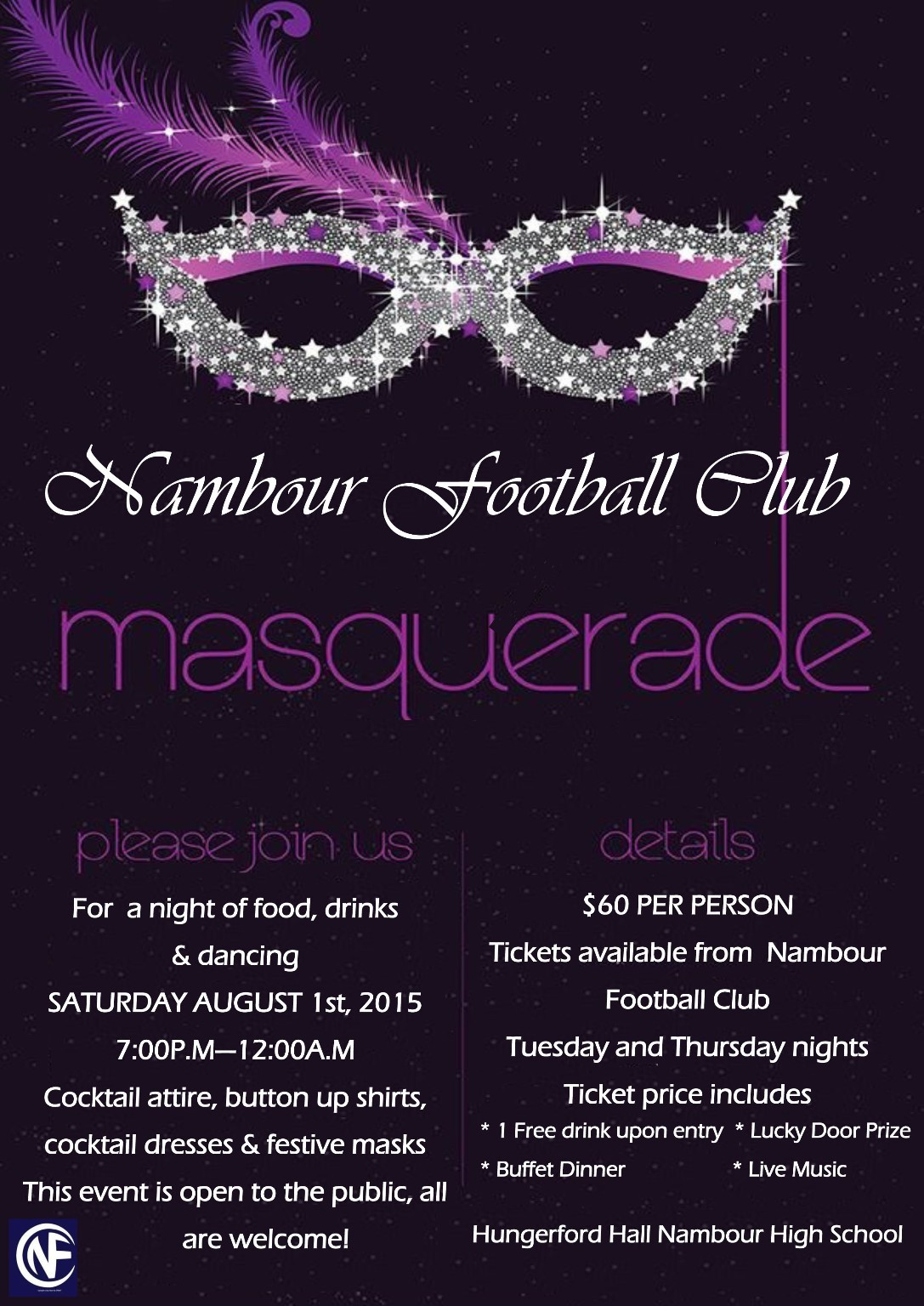 Past players, volunteers and officals

Join our Blue Grey's supporters club. Click here

The Nambour & Hinterland Chairman's Club consists of sponsors, past players, AFL devotees and invited guests from the Sunshine Coast business communities. The purpose of the Chairman's Club is to: provide a business networking forum for Hinterland businesses; raise the profile of AFL community football in community leaders in our area.
Nambour & Hinterland AFC
Senior Fooball
2015 QFA NORTH CLUB
QFA North competition was introduced in season 2014 to promote local rivalries whilst still maintaining a highly competitive competition. Teams stretch from north of the Brisbane River to the northern end of the Sunshine Coast.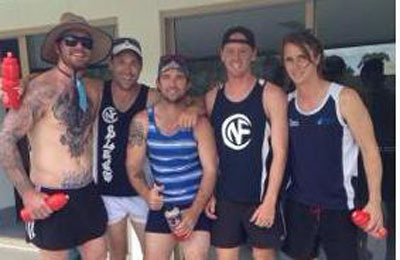 2015 Pre season will start on Jan 20th and continue every Tuesday and Thursday up Round 1, 11th April v Marrochydore:
Venue Jubilee drive;

Ready to start 6pm;

All players from under 17s up welcome;

New and Returning players.
In loving memory of Dionne D'Elton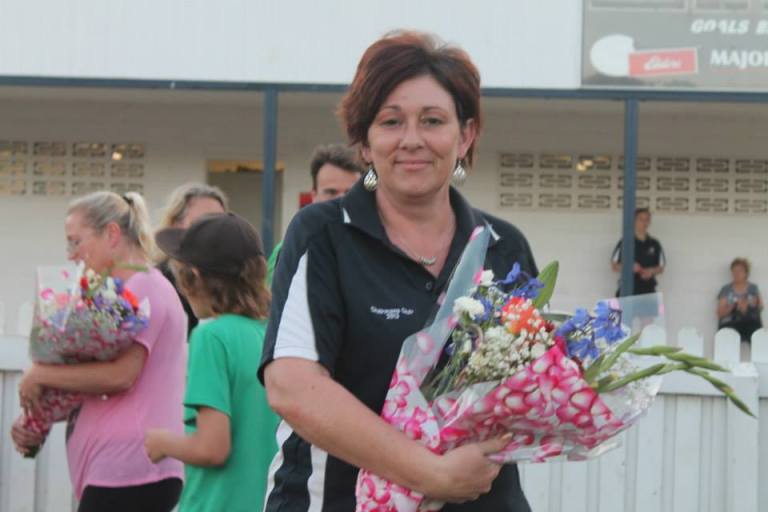 With deepest sorrow we received news of one of our dedicated club member's passing. Dionne D'elton was a fighter battling cancer for eight years. A passionate stalwart volunteer of our club and community. Dedicated to the tasks she set herself, whose love of our club and AFL footy was only surpassed by the love for her family. Our thoughts, compassion and support goes out to Dionne's loving husband Ross and children Keenan, Rohan, Mitchell, Brock, Cooper, Noah & Aingeal in this time of mourning.
President of Senior Football Nambour & Hinterland AFC 2014. You will be sorely missed. March 1971 - Nov 2014

Mathew Elkington - Appointed Senior Coach in 2015
Nambour & Hinterland AFC - Coaching Selection Committee has concluded a robust coaching selection process and is proud to announce that Mathew Elkington has been appointed 2015 Senior Coach and as such will assume the role of club head coach for the Nambour & Hinterland AFC.Mat is a past player at our club featuring in the 1996 team and has extensive coaching experience being a fully qualified AFLQ level 2. His experience includes coaching teams in: QFA North, SEQAFL Allied Pickford Cup, SEQAFL Pineapple Cup, State Association Division 1 and junior grades at club level including Sunshine Coast Power Under 16'sThroughout a series of interviews Mat communicated strong vision and passion for the game and the Nambour Footy club. Mat also articulated extensive AFL depth of knowledge, dynamic skill training regimes and demonstrated clear understand for how the modern team structures are to be developed.From Mat's own words after receiving news of his appointment: " Very exciting news this afternoon. I'd like to thank you. I am very excited and want to jump into the role immediately. Today is the start of us building a very good club as a team. Like Brendan Sanderson said at the Adelaide coaching conference in Adelaide, "Our Club"…. I believe it would be an honour to coach at Nambour…. as a team we need to start working together and signing past players and contacting possible new team members to Nambour. Also I would like to start building a strong coaching panel immediately " So get on board in 2015 see click here for details how.The club executive would like to acknowledge the stewardship of, and thank, Ben Stanley for his role in the club for the previous four years delivery the club a Premiership win in 2011. Ben has been a great coach over this period and has played an integral role on the Coaching Selection Committee in the appointment of Mat Elkington, facilitating a smooth transition in to a new era for the Nambour & Hinterland AFL club.See you at our Nambour Footy Vision Workshop 11:00am to 1:00pm Saturday the 18th Oct and meet Mat.Cheers
Stuart Whitney
2014 Club ChairmanFollowing a successful first year entry into the Queensland State QFA Division 2 competition, finishing 6th overall, the Nambour footy club will continue to build on this success and work a four year plan to a Grand Final berth. Be part of this journey.
Nambour and Hinterland AFC will be fielding the following Senior teams in 2015:
QFA North Division Seniors;

QFA North Division Reserves;

QFA North Division Under 19
So get on board and put your name on the list.

Major Sponsor
Nambour & Hinterland AFC
a Swisse Silver Quality Club.
We have been recognised with Silver level accreditation in the Swisse Quality Club Program.
Silver accreditation recognizes those clubs that perform rigourously on and off the track at administrative levels, club development and community initiatives.
A big shout out to the hardworking club committee and volunteers and in particular Stacey French our AFL club coordinator for her assistance and preparation of the application.
Well done everyone.
Darren Lockwood
AFLQ comments below
Congratulations on completing your Silver level accreditation in the Swisse Quality Club Program.
Your club enters a prestigious collection that have excelled to this premier level.
Congratulations on becoming a true leader in club development in the state, establishing first class administrative practices and providing quality environments at your club.
Kind Regards
Anron Hall
Community Programs Co-ordinator
Contact Details
Contact Name :
Nambour & Hinterland Australian Football Club
Phone number :
(07) 5445 9902
Fax number :
(07) 5445 9902
Postal Address :
P.O. Box 5367 Sunshine Coast Mail Centre, NAMBOUR, QLD, 4560
ABN: 19004780352