Season Statistics
PPG


RPG


APG
5.8
FG%

Player Profile
Tayla Roberts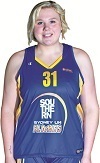 PERSONAL:

DOB: 16/02/93; HEIGHT: 191cm
POSITION: Forward/Centre
JUNIOR ASSOCIATION: Northern Tasmania (TAS)
FIRST PLAYED WNBL: 2009/10 AIS
WNBL CLUBS: AIS 2009/10-2010/11; Bulleen Boomers 2011/12; Sydney Uni Flames 2012/13

WNBL CHAMPIONSHIPS: Nil
WNBL CAREER NOTES: Tayla joins Sydney after playing with the Bulleen Boomers in 2011/12, averaging 4.4 points and 4.1 rebounds per game. She played in all 22 games in season 2010/11 and averaged 9.1 points and 5.8 rebounds per game;2009/10 was Tayla's debut WNBL season; she played in 22 games and averaged 10 points and 1.8 blocks per game and was named the WNBL Betty Watson Rookie of the Year.
INTERNATIONAL CAREER NOTES: 2011 FIBA U19 World Championship; 2010 FIBA U17 World Championship in France; 2009 FIBA U17 Oceania Qualifying Championships.
GENERAL BASKETBALL NOTES: 2011 Named in the Australian Gems U19 team for the FIBA U19 Women's World Championships in Chile; Played in pre-World Championship tournament in China; 2011 represented TAS at the Australian U20 Championships; 2010 represented Australia at the FIBA U17 Women's World Championships in France; 2010 represented TAS at the Australian U18 Championships… In the 2009 FIBA Oceania U17 Qualification tournament Tayla averaged 13 points per game, helping Australia qualify for the 2010 FIBA U17 World Championship in her international debut.
PERSONAL INFORMATION: Tayla is from Launceston and has two younger siblings Mackenzie, 8 and Bowen, 5. Tayla loves spending time with her family and friends, listening to music and watching movies. She also loves relaxing and going to the beach. Her dreams are to get a University degree and play for the Opals. Motto -"Go confidently in the direction of your dreams!
COACH'S COMMENTS: Tayla is a great signing for the Flames as we have looked to add depth and size to our roster in the 4 and 5 positions. The youngest of our big players she will continue to develop this season, in laying a platform for the future. She has great touch around the basket and will add some scoring power to the big rotation.
Season Statistics

2PT
3PT
FT
Rebounds
M
MIN
2PM-A
1st Half H.S
3PM-A
3PT
%
FTM-A
FT %
TOT
AST
PTS
Season
22
06/11/2010
- - -
0.0
46 - -
26
- - Townsville
5.8
Career
89
06/11/2010
- - -
0.0
125 - 1
73
- - Townsville
4.5
Previous Seasons

Competition
Season
M
MIN
2PM-A
1st Half H.S
3PM-A
3PT
%
FTM-A
FT %
PF
Total Pts
TOT
AST
PTS
WNBL 2014/15
2014
0
- - -
0.0
- - -
- - -
0.0
0.0
2012/13
2012
21
06/10/2012
26 - 70
37.1
16 - -
7
- - Canberra
43.8
2.1
2011/12
2012
24
06/01/2012
41 - 92
44.6
27 - -
18
- - Townsville
66.7
3.9
2010/11
2011
22
06/11/2010
- - -
0.0
46 - -
26
- - Townsville
56.5
5.8
2009/10
2010
22
31/01/2010
- - -
0.0
36 - 1
22
- - Bendigo
61.1
6.0