Season Statistics
PPG


RPG


APG
3.1
FG%

Player Profile
Mia Newley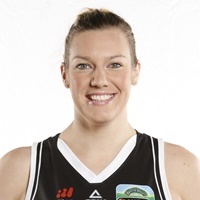 DOB: 04.08.88
Height: 184cm
Junior Club: Forestville Eagles (SA)
WNBL Clubs: AIS 2006 – 2008; Adelaide Lightning 2008 – 2011; Townsville Fire 2011 – Current. WNBL
Championships: Nil.
Bio: Newley emerged at the AIS as an athletic guard, with an eye for the basket. The younger sister of Australian Boomers star Brad Newley, Mia has blazed her own trail, notching up more than 150 WNBL games.
After three seasons with the AIS, Newley returned to her native South Australia to join the Adelaide Lightning. It was her final campaign at the Lightning that produced the best results, posting career high numbers in points, rebounds and assists.
Townsville under Chris Lucas came knocking and Newley obliged, making the move to North Queensland and helping the Fire to their first WNBL Grand Final appearance last season.
Career Highlights: World University Games: 2009 (Bronze), 2011 (Bronze), FIBA U19 World Championships: 2007.
Season Statistics

2PT
3PT
FT
Rebounds
M
MIN
2PM-A
1st Half H.S
3PM-A
3PT
%
FTM-A
FT %
TOT
AST
PTS
Season
20
18/02/2012
48 - 110
43.6
34 - 40
24
- - Canberra
3.1
Career
196
23/11/2012
- - -
0.0
270 - 526
198
- - -
3.0
Previous Seasons

Competition
Season
M
MIN
2PM-A
1st Half H.S
3PM-A
3PT
%
FTM-A
FT %
PF
Total Pts
TOT
AST
PTS
2014/15
2014
11
22/11/2014
26 - 65
40.0
11 - 36
8
- - Bendigo
72.7
4.6
2013/14
2013
27
09/03/2014
58 - 108
53.7
15 - 77
14
- - Bendigo
93.3
3.1
2012/13
2012
23
23/11/2012
61 - 133
45.9
29 - 74
28
- - Sydney
96.6
2.7
2011/12
2012
20
18/02/2012
48 - 110
43.6
34 - 40
24
- - Canberra
70.6
3.1
2010/11
2011
22
17/10/2010
- - -
0.0
51 - 82
39
- - West Coast
76.5
5.2
2009/10
2010
22
17/10/2009
- - -
0.0
17 - 55
13
- - West Coast
76.5
3.0
2008/09
2009
24
28/02/2009
- - -
0.0
39 - 35
24
- - Townsville
61.5
2.2
2007/08
2008
23
19/01/2008
- - -
0.0
42 - 71
28
- - Bendigo
66.7
2.6
2006/07
2007
21
20/01/2007
18 - 54
33.3
26 - 52
14
- - Sydney
53.8
1.3
2005/06
2006
2
27/01/2006
5 - 7
71.4
4 - 4
4
- - Adelaide
100.0
2.0
2000/01
2001
1
20/01/2001
1 - 4
25.0
2 - -
2
- - West Coast
100.0
0.0