Season Statistics
PPG


RPG


APG
2.0
FG%

Player Profile
Micaela Cocks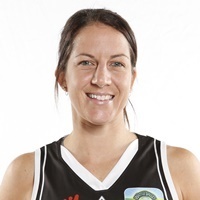 DOB: 02.05.86
Height: 178cm
Junior Club: Auckland (NZ)
WNBL Clubs: Townsville Fire 2011 – Current.
WNBL Championships: Nil.
Bio: Cocks has become a key figure for the Townsville Fire and the New Zealand Tall Ferns, producing big time performances for both teams in 2013. The Auckland native came to the WNBL via the University of Oregon in 2011, joining the Fire and immediately adding quality to the roster.
In her first two seasons, Cocks has racked up more than 50 games and helped the club reach their first WNBL Grand Final, with massive performances throughout the most recent WNBL post-season.
Her reputation received another boost, producing strong performances against the Jayco Opals in the 2013 FIBA Oceania Championships.
Career Highlights: Olympic Games: 2008, Commonwealth Games: 2006 (Silver), FIBA Oceania Championships: 2013.
Season Statistics

2PT
3PT
FT
Rebounds
M
MIN
2PM-A
1st Half H.S
3PM-A
3PT
%
FTM-A
FT %
TOT
AST
PTS
Season
24
12/11/2011
76 - 179
42.5
48 - 56
41
- - Sydney
2.0
Career
103
30/11/2013
- - -
0.0
170 - 274
135
- - -
2.1
Previous Seasons

Competition
Season
M
MIN
2PM-A
1st Half H.S
3PM-A
3PT
%
FTM-A
FT %
PF
Total Pts
TOT
AST
PTS
2015/16
2015
0
- - -
0.0
- - -
- - -
0.0
0.0
2014/15
2014
24
29/11/2014
38 - 89
42.7
26 - 56
20
- - West Coast
76.9
1.5
2013/14
2013
27
30/11/2013
70 - 169
41.4
45 - 96
33
- - West Coast
73.3
3.3
2012/13
2012
27
03/03/2013
56 - 155
36.1
51 - 64
41
- - Dandenong
80.4
1.6
2011/12
2012
24
12/11/2011
76 - 179
42.5
48 - 56
41
- - Sydney
85.4
2.0