Welcome
Basketball skills and development in the Inner West - 2016
SKILLS TRAINING SESSIONS brought to you by our Director of Coaching Barry McCready-

23rd July – Offensive Fundamentals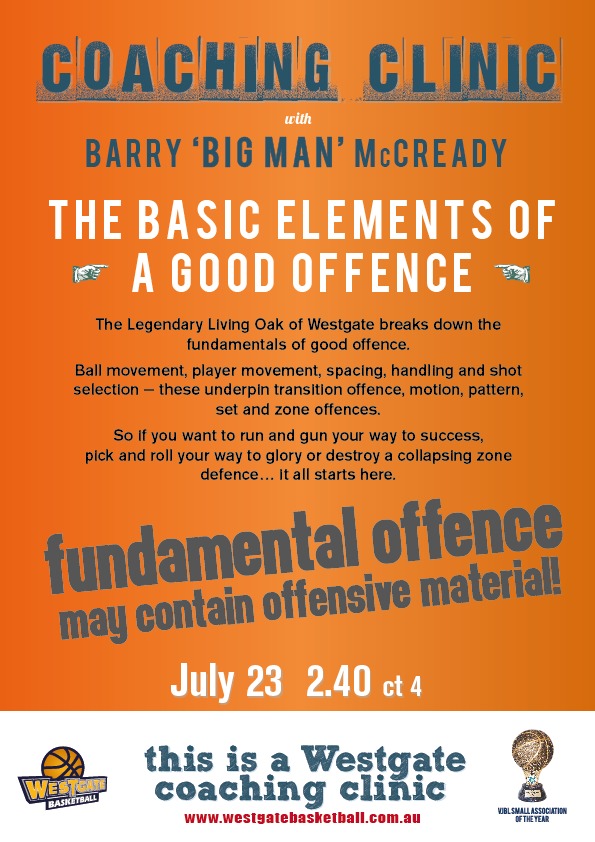 30th July – Building a Defensive System
REP READY delivered by our Director of Coaching Barry (Big Man) McCready.
Sessions run 5.00pm to 6.00pm Wednesdays at VU Community Sports Stadium, Whitten Oval.
A 6 week program for boys and girls 9 to 12years old (born 2004, 2005, 2006, 2007)
Registrations will be taken courtside from 4.30pm Wednesday 20th July. See you there!
PINK BALL - Term 3 2016
With assistance from the City of Maribyrnong She's Game grant program we are offering an all girl skills class for 5 to 10 year olds.
Choose between sessions on Tuesdays at 4.00pm or Saturday 8.45am
AUSSIE HOOPS - Term 3 2016
Skill sessions for 5 to 10 year olds.
Choose between sessions suitable for Rookie, Starter, and All Star on
Wednesdays 4.00pm or 5.00pm, Thursdays 4.00pm or 4.45pm, Saturdays 8.45am or 9.30am, or Sunday 11.10am
Register for Aussie Hoops Term 3

GREEN SHIRTS - Trainee Referee program 2016
The 2016 programme is now closed. Thank you for the interest shown in the programme. We only had a certain number of places so apologies to those that have missed out. This programme will be run again so look out for future notices.
Working With Childrens Checks (WWCC)