HOME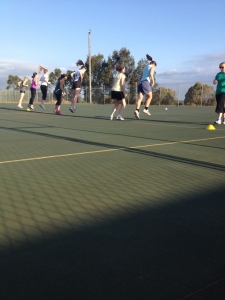 How many reps is that coach? Two by 4 with no rest and 4 by two with still no rest and how far is that 20 metres by 5 reps 100 metres you dont need a gps to work that out. By the end of the session we had run 4km of sprints and runs. We are all clocking up the miles. Some even with a pusher in tow!
The balls look good as now we are regulary doing ball skills sessions which is great fine tune everything for that practice match coming up in March.
We have had great numbers at training, the newbies are coming back so we cant be that bad a group and I think I can say everyone is enjoying the running. I feel the fitest I have ever been. WE will see how that pans out when we tackle the 1000 steps on Monday night!!!!!!!!!
WE had a little helper join this session, he had excellent communication skills and told us all what we needed to be doing when it came time to do our strength work. Every little bit helps!