HOME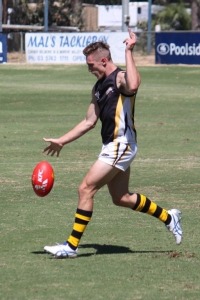 PRACTICE GAMES THIS SUNDAY
v BUNDOORA AWAY
Yulong Reserve Cnr Plenty Road and Bent Street, Bundoora
Reserves/U19 start time 10.30 am, Seniors to follow at 12.30pm
TIGERS E-BULLETIN: v Bundoora
To subscribe to our weekly email Bulletin
click here and send your details.
---
MEMBERSHIPS 2015
Sign on now for 2015 with Tiger membership options for all supporters
from our online store:
https://www.clubdata.com.au/Club/balwyn-football-club.aspx
Membership enquiries call Football Manager Jo Tregear 0412 172 183
---
SEASON LAUNCH LUNCHEON - FRIDAY 10 APRIL
Book now for our Yellow and Black Friday lunch and Calcutta to kick off the 2015 season.
GUEST SPEAKERS:
Socceroos Coach: Ange Postecoglou
Federal Assistant Treasurer: Josh Frydenberg
Herald Sun: Jon Ralph
12.30pm for 1pm Book your table now - tables of 10 available, $110 per head.
RSVP: (with credit card details) to Jo Tregear, 0412 172 183 or tregear1@bigpond.com by Tuesday by 7 April
---
TRAINING THIS WEEK
Tuesday night, 6pm @ Balwyn Park
Thursday night 6pm @ Balwyn Park
---
UNDER 19 PLAYERS WANTED - WELCOME U19s 2015
IF YOU ARE STILL LOOKING FOR SOMEWHERE TO PLAY YOUR U19 FOOTBALL IN 2015, WE HAVE SOME SPACES AVAILABLE - PLEASE CONTACT OUR RECRUITING MANAGER JUSTIN COSGROVE ON 0419 105 687
*High quality coaching and training programs
*Full medical support including physio, strength and conditioning, dietician
*Player mentor support
*Education, leadership and career courses
*No fees to pay
---
BALWYN FC - CENTENARY YEAR 2016
Already we are making plans and getting organised to Celebrate the Centenary Year for the Balwyn Football Club in 2016!
Many and varied events are planned for throughout the year, culminating in a Gala Dinner Event at the Palladium Ballroom at Crown Casino in July where we will induct Members to our Hall of Fame and announce and celebrate our Team of the Century!
We are putting the call out to all Balwyn family - supporters, players, past players, committee, sponsors etc to get involved and be a part of this great celebration!!!
To make sure you are kept up to date with all the latest, please let us know your name, email address and phone number to balwyn@efl.org.au or contact Jo Tregear on 0412 172 183 to have your details added to our database.
---
FOLLOW US ON TWITTER
For all the latest Balwyn FC updates. You'll find us @balwynfc
To subscribe to our weekly email Bulletin click here and send your details.
---
TIGER TIME
Don't just barrack for your club - Support Us! Whether you be a Sponsor, member, volunteer, parent, partner, family ... it takes many and varied efforts to keep this great club going and to be able to enjoy the rewards of success ... how are you going to be involved this season?
Sponsorship - Link your company with the professional and successful Balwyn Tigers brand. Let us design a package to suit your company (and your budget). Contact President Richard Wilson - 0407 949 178
Player Sponsorship - do you have a favourite player? Someone that you love to watch play, or would just like to support? Packages are available for $500 or $1,000 (additional benefits). This is your opportunity to take a Tiger under your wing and get significant branding and exposure for your business, or personally. Contact Football Manager, Jo Tregear, 0412 172 183 to secure your player.
Volunteers - we're always happy to hear from anyone who wants to get involved, or who has some special skill that you think might be able to assist the club.
---
BALWYN JUNIOR FOOTBALL CLUB
Balwyn JFC - U15 & U17 (amalgamated with Boroondara Hawks JFC)
Contact - Glenn Ryan - 0414 765 118 / secretary@boroondarahawks.com.au
Balwyn Juniors U9 - U14 - Kate Tassiopoulos 0412 514 531 / ktassiopoulos@hotmail.com