HOME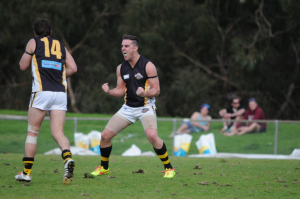 Tigers get past Blackburn in Elimination Final
Balwyn 11:8:74 def. Blackburn 7:10:52
Goal Kickers: S. Tregear 3, M. O'Regan 2, L. Barker, S. Cross, M. Sheppard, T. Ryan, J. Weatherald, B. Broadhurst
Best Players: S. Cross, M. O'Regan, S. Tregear, K. Pendlebury, R. Watts, M. Keedle
See pictures from the game here.
Balwyn Tigers E Bulletin:
SUNDAY v Blackburn at Ringwood
To subscribe to our weekly Bulletin click here and send your details.
---
FINALS EVE LUNCHEON - FRIDAY 29 AUGUST @ BALWYN PARK 12.30 for 1pm
A great day is in store to welcome the 2014 Finals Series!
SPECIAL GUESTS
Vin O'Halloran, CEO, Pratt Industries

Dan Donati, Senior Coach, Balwyn FC

Tony Jones, Channel 9 News

"The Ox" David Schwarts, SEN Radio
Come and hear all the inside news at this exciting time of the year.Cost - $80 includes two course meal, along with wine, beer and soft Drinks.
Bookings essential - contact Football Manager, Jo Tregear, 0412 172 183 or tregear1@bigpond.com
---
!!! SPORTINGBET - POST DARWIN CUP SPECIAL !!!
Anyone who signs up for a NEW Sportingbet account by the end of August, will have their initial deposit matched (up to $1,000). What a great deal! Contact Craig Ahrens at Sportingbet on 0410 039 610 or craiga@sportingbet.com.au
SPORTINGBET - BALWYN TIGERS MAJOR SPONSOR
---
RECRUITING PLAYERS FOR 2015
Balwyn FC is a club that strives for excellence and success but also believes footy should be enjoyable and create a great bond between mates. We invite any players interested in joining us to contact Recruiting Manager Justin Cosgrove on 0419 105 687 or justin.d.cosgrove@team.telstra.com.au OR Football Director Paul Johnson on 0418 332 778 or pjohnson@colbysouthern.com.au
Seniors / Reserves / Under 19s
---
DONATI COMMITS TO TIGERS FOR NEXT TWO YEARS
Balwyn FC President Richard Wilson has announced a two year contract extension for Coach Daniel Donati.
Wilson told the club last night that "quality leadership is fundamental to an organisations success and Daniel has led our club as senior coach in an outstanding manner, bringing football club culture, belief, and team orientation as the guiding principles to our recent success."
"This appointment underpins the clubs future, as the Balwyn Football Club looks forward to celebrating its 100th year of footy in our community in two years time."
Donati said it was an easy decision to continue with the club.
"What an unbelievable experience it has been for me already in nearly three seasons - how could I not want to continue with the success and development of this great football club?"
"So for me it was an easy decision and one in which I am very proud to move forward with.
"We have all experienced the highest of highs, over the past couple of seasons, but our great club and its people have also experienced the lowest of the lows.
"Together we march on, together we will continue to strive for excellence, and success will follow.
"I look forward to the coming couple of months, as we head into what will hopefully be another successful finals campaign.
"Thanks to all of those who have supported me so far, especially the playing group and support staff (you know who you are!).
"So much more work to do - but I can't wait"
GO TIGERS!
---
FOLLOW US ON TWITTER
For all the latest Balwyn FC updates. You'll find us @balwynfc
---
TIGER TIME
Don't just barrack for your club - Support Us! Whether you be a Sponsor, member, volunteer, parent, partner, family ... it takes many and varied efforts to keep this great club going and to be able to enjoy the rewards of success ... how are you going to be involved this season?
Sponsorship - Link your company with the professional and successful Balwyn Tigers brand. Let us design a package to suit your company (and your budget). Contact President Richard Wilson - 0407 949 178
Player Sponsorship - do you have a favourite player? Someone that you love to watch play, or would just like to support? Packages are available for $500 or $1,000 (additional benefits). This is your opportunity to take a Tiger under your wing and get significant branding and exposure for your business, or personally. Contact Football Manager, Jo Tregear, 0412 172 183 to secure your player.
Volunteers - we're always happy to hear from anyone who wants to get involved, or who has some special skill that you think might be able to assist the club.
---
BALWYN JUNIOR FOOTBALL CLUB
Balwyn JFC - U15 & U17 (amalgamated with Boroondara Hawks JFC)
Contact - Glenn Ryan - 0414 765 118 / secretary@boroondarahawks.com.au
Balwyn Juniors U9 - U14 - Kate Tassiopoulos 0412 514 531 / ktassiopoulos@hotmail.com