HOME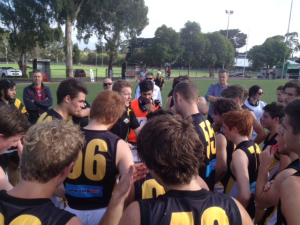 At SEN BALWYN PARK TODAY now the sunshine is out and we're all set for a great day of football ... U19s @9.40am, Reserves @ 11.55am, Seniors 2.10pm - after we run our 2013 premiership flag up the pole.
Come along for a terrific day at the football - $7 adult entry, concession available, kids under 16 free - or buy a Membership for the season
U19s - our U19 players are an exciting group of young men with plenty of talent. We are still keen to recruit some more players to this group, so for any young guy looking to fully develop their football potential the Balwyn Football Club offer you tremendous opportunities. Strive to be the best you can and at the same time really enjoy your footy! Our U19s Coach Maddision Hardiman is a current Balwyn senior premiership player, providing a great link between this younger group and our more experienced players. Maddison has experience in the VFL system (Sandringham), as do a large number of our other senior players. The opportunity to train alongside such experienced and footy smart guys should not be underestimated. Nor should the chance to be part of a club led by 2014 AFCA Senior Coach of the Year Dan Donati. It's exactly this that has led recently to the development and promotion to senior opportunities of young players at our club – for example Jayme Gottliebsen, Ed McCutchan and Liam Frazer who have all played significant roles in the senior team as 18 and 19 year olds (including being valuable members of premiership teams in 2012 and 2013). Also all of these boys have since been offered opportunities with VFL sides on the back of these results. 2013 Eastern Ranges skipper Mitch Keedle has also recently joined us, immediately being given a chance in the senior team in Round 1. To make enquiries or to join us, contact U19s Coach Maddison Hardiman on 0430 568 914)
CLUB MEMBERSHIPS NOW ON SALE
On the back of a terrific wins in the Seniors and Reserves and a great effort from our U19s in Round 1, this coming Saturday is our first home game at Balwyn Park ... BUY A MEMBERSHIP and enjoy all the great footy action this season at the home of football SEN BAlwyn Park. It's time to support your club and purchase your membership. Prices and categories remain the same - great value! - and it is the best way to support your club.
Tiger Member - $75 ($25 conc.)
Social Club Member - $150
Memberships for sale at the game - see Shane or Wayne behind the bar, or Foxy around the ground.
Click on the MEMBERSHIP PACKAGES tab at the top left hand side of this website to download the 2014 Membership Form.
Pay directly online via this link to our Club Data store
(your keytag will be mailed to you)
Phone Football Manager Jo Tregear on 0412 172 183 to pay by credit card on the spot ... we'll check your details on the database, process your payment and send your keytag straight out to you - No forms to fill out, no boxes to tick - it could not be easier!!!
SENIOR, RESERVE AND U19 GRADE RECRUITING
Balwyn Football Club is a professionally run club that strives for success, yet also believes footy should be enjoyable and foster great friendships between team mates.
We still have some places available in our playing squads, so if you are a player interested in joining us, or know someone who might be, please contact Recruiting Manager, Justin 'Cossy' Cosgrove 0419 105 687 or justin.d.cosgrove@team.telstra.com,
or Football Director, Paul 'Johno' Johnson on 0418 332 778
For all the latest Balwyn FC updates. You'll find us @balwynfc
TIGER TIME
Don't just barrack for your club - Support Us! Whether you be a Sponsor, member, volunteer, parent, partner, family ... it takes many and varied efforts to keep this great club going and to be able to enjoy the rewards of success ... how are you going to be involved this season?
Sponsorship - Link your company with the professional and successful Balwyn Tigers brand. Let us design a package to suit your company (and your budget). Contact President Richard Wilson - 0407 949 178
Player Sponsorship - do you have a favourite player? Someone that you love to watch play, or would just like to support? Packages are available for $500 or $1,000 (additional benefits). This is your opportunity to take a Tiger under your wing and get significant branding and exposure for your business, or personally. Contact Football Manager, Jo Tregear, 0412 172 183 to secure your player.
Membership - 2014 Membership packages available from February
Tiger Member ($75), Social Member ($150), or join our Coterie Group the "400 Club" - or contact Football Manager, Jo Tregear (0412 172 183 / tregear1@bigpond.com), to make it all happen.
Volunteers - we're always happy to hear from anyone who wants to get involved, or who has some special skill that you think might be able to assist the club.
See us on match day, or send us your details and area of interest to: balwyn@efl.org.au or call Football Manager, Jo on 0412 172 183.
Water carriers

Website

Match day photographer

Raffle ticket sales - Match Day & Friday Harp raffle

Bar helpers

Fence installers
BALWYN JUNIOR FOOTBALL CLUB
Balwyn JFC - U15 (amalgamated with Boroondara Hawks JFC) Glenn Ryan - 0414 765 118 / secretary@boroondarahawks.com.au
Balwyn Juniors U9 - U14 - Kate Tassiopoulos 0412 514 531 / ktassiopoulos@hotmail.com